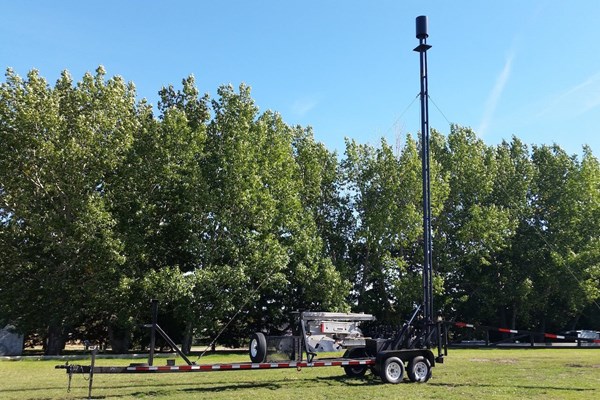 Our standard portable flarestack systems are packaged and offered to clients with all necessary accessories for a quick, efficient installation. Our trailered units are easily shipped to job sites. They are a completely self-contained unit mounted on a heavy-duty axle trailer. They come with electric lights and brakes as well as a 2 5/16" ball hitch. Once on location the boom is raised or lowered by an electric hydraulic system that is powered by an onboard, heavy duty 12V battery. The trailer is outfitted with 2 separate outriggers that quickly unfold to make a stable platform to secure the flarestack in place.
Our portable flarestacks are available in 3 sizes
3" x 40" (flowrate 2.5 mmscf/day)
4" x 40' (flowrate 3.0 mmscf/day)
6" x 60' (flowrate 10.0 mmscf/day)
All standard portable trailered flarestack packages are set up with the following:
Fully retractable ignitor with 2-in-1 dual continuous propane or electric ignitor system to ensure a constant flame
Solar power system with solar panels, 12V battery, battery enclosure and stand
Guy-wire cables and stakes
150# inline flame arrestor with 304ss cell (studs/nuts and gasket)
Propane tank for ignitor operation
Electric/hydraulic lift system
Optional:
Purge reducer
Wind shroud
Matching base plate
Air blower
New and used purchase pricing and rental options are available.